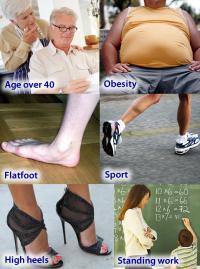 Overview
A heel spur is a hook of bone that can form on the heel bone of the foot. Heel spurs are associated with plantar fasciitis. Heel spurs can cause extreme pain in the rearfoot. The pain is most intense while standing or walking. What Causes Heel Spurs? Heel spurs develop as an abnormal growth in the heel bone due to calcium deposits that form when the plantar fascia stretches and pulls away from the heel. The plantar fascia is a ligament located at the bottom of your foot. This stretching of the plantar fascia is usually the result of
flat
feet or unusually high arches.
Causes
You are more likely to develop plantar fasciitis and heel spurs if you are Active. Sports that place excessive stress on the heel bone and attached tissue, especially if you have tight calf muscles or a stiff ankle from a previous ankle sprain, which limits ankle movement eg. running, ballet dancing and aerobics. Overweight. Carrying around extra weight increases the strain and stress on your plantar fascia. Pregnant. The weight gain and swelling associated with pregnancy can cause ligaments to become more relaxed, which can lead to mechanical problems and inflammation. On your feet. Having a job that requires a lot of walking or standing on hard surfaces
ie
factory workers, teachers and waitresses.
Flat
Feet or High Foot Arches. Changes in the arch of your foot changes the shock absorption ability and can stretch and strain the plantar fascia, which then has to absorb the additional force. Middle-Aged or Older. With ageing the arch of your foot may begin to sag - putting extra stress on the plantar fascia. Wearing shoes with poor support. Weak Foot Arch Muscles. Muscle fatigue allows your plantar fascia to overstress and cause injury. Arthritis. Some types of arthritis can cause inflammation in the tendons in the bottom of your foot, which may lead to plantar fasciitis. Diabetes. Although doctors don't know why, plantar fasciitis occurs more often in people with diabetes.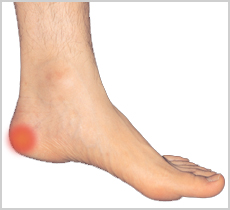 Symptoms
If your body has created calcium build-
ups
in an effort to support your plantar fascia ligament, each time you step down with your foot, the heel spur is being driven into the soft, fatty tissue which lines the bottom of your heel. Heel spur sufferers experience stabbing sensations because the hard protrusion is literally being jabbed into the heel pad. If left untreated, Plantar Fasciitis and heel spurs can erode the fatty pad of the heel and cause permanent damage to the foot. Fortunately, most cases can be resolved without medications or surgeries.
Diagnosis
Your doctor will discuss your medical history and will examine your foot and heel for any deformities and inflammation (swelling, redness, heat, pain). He/she will analyze your flexibility, stability, and gait (the way you walk). Occasionally an
x-ray
or blood tests (to rule out diseases or infections) may be requested.
Non Surgical Treatment
Elevation of the affected foot and leg at rest may diminish the pain. Applying gentle heat to the painful area may ease the pain by dilating local blood vessels. One also can protect the heel by placing a foam rubber pad in the heel of the shoe. A pad about one-half inch thick will raise the heel, shift the weight of the body forward, and protect the irritated muscles attached to the heel bone. The same effect can be achieved by using adhesive tape to turn the foot inward. Additional treatment may consist of a number of physical therapies, such as diathermy, ultrasound
waves
and
whirlpool
baths.
Surgical Treatment
When chronic heel pain fails to respond to conservative treatment, surgical treatment may be necessary. Heel surgery can provide pain relief and restore mobility. The type of procedure used is based on examination and usually consists of releasing the excessive tightness of the plantar fascia, called a plantar fascia release. The procedure may also include removal of heel spurs.